Andrew Ballard Joins Lowers Risk Group as Vice President of International Markets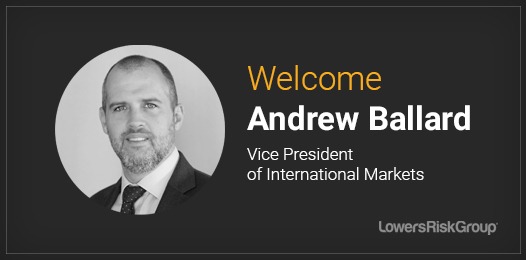 Experienced claim professional, Ballard will lead efforts to bring technology solutions to the international insurance sector.
Leading enterprise risk consulting firm, Lowers Risk Group, is pleased to announce that Andrew Ballard has joined as the Vice President of International Markets.  Ballard will bring his intimate knowledge of the insurance market to the London office with his primary focus being emerging markets and technology for the company's global clientele.
Ballard has been working as a claim professional in the London insurance market for nearly twenty years, spending the last nine years with a global loss adjusting firm, prior to joining the emerging markets team at Lowers Risk Group.  He brings extensive knowledge of various forms of risk and has been active in providing solutions globally for clients in technical claims handling and claims management services.
"As we continue to invest in industry-leading technology for the insurance sector, we are glad to have Andrew in London to respond to our customers and their ever-changing needs," remarks Mark Lowers, President and CEO of Lowers Risk Group.
Ballard states, "I have developed a keen interest in the recent advances of technology in the insurance sector and look forward to playing a significant role in bringing Lowers Risk Group's suite of technology products to clients worldwide."
Lowers Risk Group provides comprehensive enterprise risk management solutions to organizations operating in high-risk, highly-regulated environments and organizations that value risk mitigation.
To learn more about Lowers Risk Group visit lowersriskgroup.com. 
Media Contact:
Michael Gaul
EVP, Marketing
Lowers Risk Group
mgaul@lowersriskgroup.com
(540) 338-7151